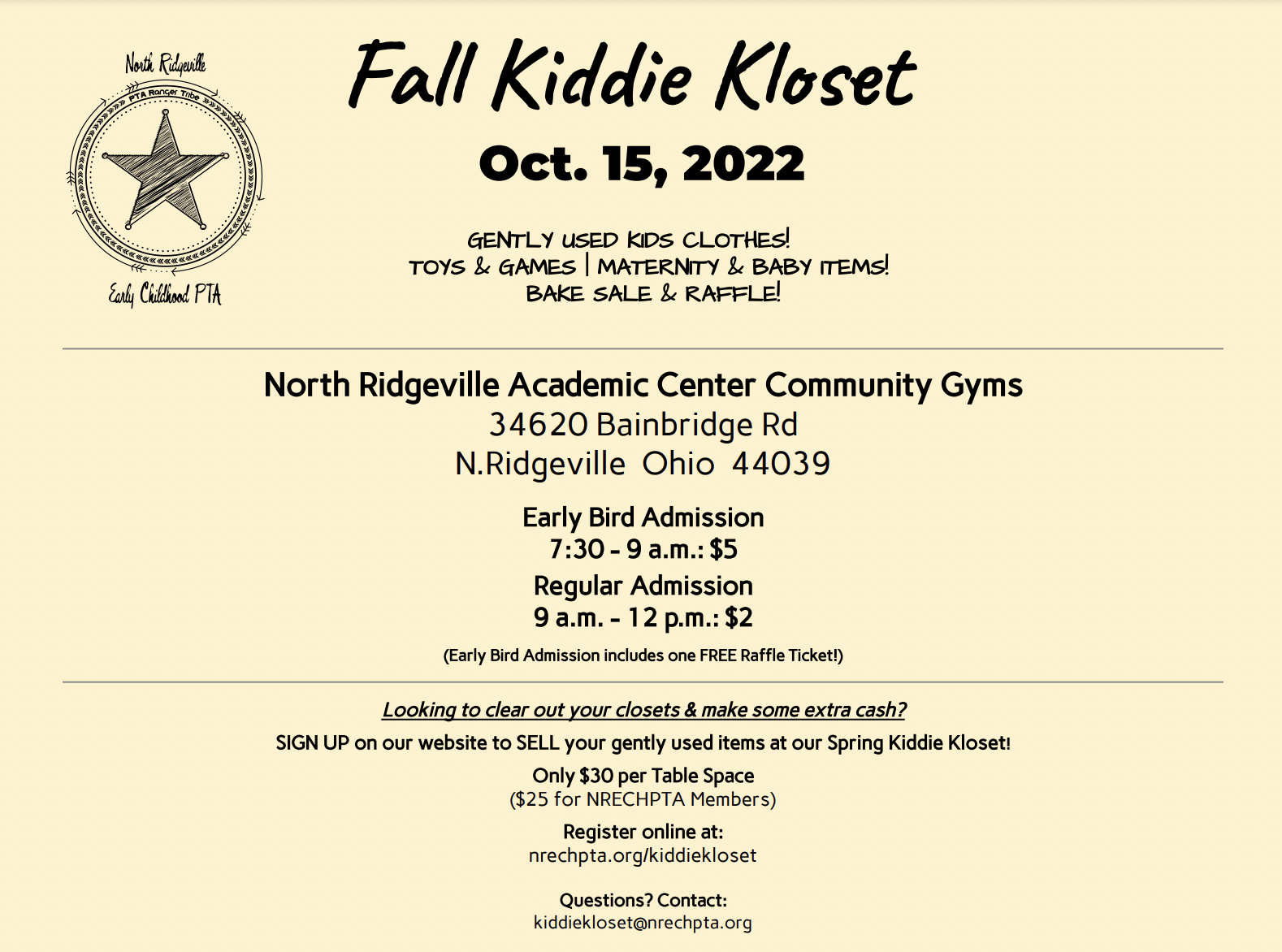 Table Information:
$30 per table for non-members
$25 per table for NRECHPTA members
*NRECHPTA is not affiliated with any other PTA groups. If you are a member of any other PTA, but not NRECHPTA, you must pay the non-member fee.
Additional Information:
Set up will be the Friday evening before the event.
Contact Kiddiekloset@nrechpta.org with additional questions.
Tips for Sellers
TOYS, TOYS, TOYS – they sell fast and furious!  Everyone wants to buy toys – the more you have to sell, the more money you will make.
Price items to sell at a rate you feel is competitive – price to sell.
Remember to bring change on both the set-up night and the sale day. There are many volunteers and sellers who will be shopping during the preview sale. It can be a great selling time!!
You may want to bring a wagon, two-wheel truck, or rolling cart to help transport your items into and out of the sale.
Remember your space is limited to your table plus 4 feet to ONE side of the table. Please be courteous to your neighbors and do not infringe upon their space.
You have a 8 foot table and 4 feet of floor space next to your table. Use your spacewisely. Include clothing racks, shelves and crates to display items in your extra space under and around the table.
Acceptable items for the Kids Resale include: infant and children's clothes, shoes,accessories, toys, baby furniture, books, music, software, riding and climbing toys. Group like items together to make displaying easier. i.e. stuffed animals together in one bin, baby rattles in a basket, etc.
Sort clothes by size and/or gender to make browsing easier on shoppers.
Computer generated or hand-written signs help to steer shoppers in the right direction.
Displaying items in a neat and organized fashion can increase your sale rate. Try to avoid just piles of clothes or toys for shoppers to sort through.
Any items that did not sell can be donated to a non-profit group at the end of the sale.
We recommend pre-ordering pizza for lunch – you will be hungry after such a long morning. There will be other snacks and drinks available for purchase throughout the day Saturday.
Please do not pack up until 12:01 p.m. Saturday.
Plan to be done with set up Friday night by 8:30 pm. Feel free to bring help, one personal guest helper is free.